A feral cat is a cat who has either never had any contact with humans or whose contact with humans has diminished over time. Feral cats are fearful of people and survive on their own outdoors.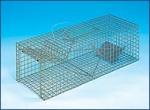 Robinson's Rescue can spay/neuter a feral cat who has been brought to our clinic in a humane trap (see left photo). All feral cats must be in a humane trap to be accepted for surgery. If you do not own a humane trap, you can rent one from Robinson's Rescue for a $60 refundable deposit. We currently have a waiting list to rent feral traps, please call or email the clinic to get placed on the waiting list.
We require one feral cat per trap and only two feral cats per owner per day.  Feral cats are dropped off between 7:30-8:30 AM and picked up at the same time the following morning.
Please email the clinic at office@robinsonsrescue.org to ask about scheduling feral cats.  Our staff can speak to you about all paperwork, payments, and our new curbside procedures.
Robinson's Rescue charges $33 to neuter a feral male cat and administer a rabies vaccination and charges $43 to spay a feral female cat and administer a rabies vaccination.
All feral cats that are spayed/neutered by Robinson's Rescue will be given an ear-tip, approved by the American Veterinary Medical Association as the universal sign a cat has been spayed or neutered.
All feral cats spayed/neuter by Robinson's Rescue will also receive dissolvable sutures, which eliminate the need for a follow-up visit to remove stitches.
Want to know more about trapping and care of feral cat colonies? Visit alleycat.org or neighborhoodcats.org for videos and tips on trapping and caring for feral cats.